Staff
Stephani Brown
Stephani Brown has been with Southern Hills for seven years now as our receptionist in our Creston office. She grew up in Mount Ayr but now lives in Corning with her seven-year-old son, Cory, and her lab, Delta. Stephani studied psychology at SWCC. She enjoys spending time with her family, watching movies, and baking. Her favorite part of her job is getting to know all of the unique personalities pets have and watching their progress.
Sara Nelson
Certified Veterinary Technician
Sara Nelson has been a Registered Veterinary Technician in the Corning office since November of 2015. She grew up in Atlantic, Iowa and attended Iowa Western Community College where she received her Associated of Applied Science Degree in Veterinary Technology. She now lives on an acreage by Clarinda with her husband Leeman, son Landon, and their labs, Kimber, Tikka, and Benelli. In Sara's free time she enjoys bow hunting, fishing, AKC hunt tests, and upland hunting with her labs. Sara enjoys making pets feel like themselves again and assisting with c-sections.
Jill Huseman
Jill Mitchell started with Southern Hills in 2002 and is now our Practice Manager. Jill attended Iowa Western Community College and Southwestern Community College. Jill grew up and currently lives in Clarinda, IA with her dog Leo. When Jill isn't in the office, she is raising Angus cattle or going to cattle shows. Jill enjoys working with a variety of animals and learning something new every day.
Josie Thu
Certified Veterinary Technician
Josie has been with Southern Hills since August of 2018. She is a certified vet tech in Arizona and working on transferring her license to Iowa. She currently lives in Corning with her two sons, Stoic and Ender. She has her dog Delci and her cat Wall-E. In her free time she enjoys watching movies, cooking and playing with her kids.
Zach Welch
Zach started at Southern Hills in August of 2018.  He went to college at SWCC for two years and earned a degree in livestock management. Zach really enjoys working with large animals especially cattle. His favorite part of the job is seeing how animals react to the treatment that our doctors provide. When not working he enjoys helping his dad on the farm (with the help of my dog Nala), going to cattle shows, and hunting.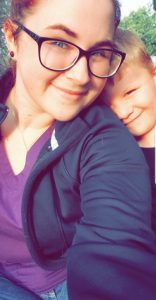 Katelyn Dumler
Katelyn Dumler has been a veterinary assistant since 2018 at our Red Oak clinic. She lives with her 5 year old son Greyson, two cats Tabby and Ivy, and dog Eva. She attended Southwestern Community College and has lived in Red Oak her whole life. She enjoys painting, drawing and binge watching Netflix when she isn't at work. She has always loved animals and is happy to be able to work with and help all the animals that come into our clinic.
Alix Kammerer
Alix has been with Southern Hills since Fall of 2019. She is originally from Stanton and graduated high school from there. Alix has two Chesapeake Bay Retrievers and her horse. Alix's favorite part of the job is seeing all the different types of animals that come into the office each day.
Cat Luft
Cat grew up in Justin, TX where I showed horses through elementary school. In high school, she competed in many 4-H and FFA events such as livestock judging and showing cattle. She have travelled all over the United States to attend various shows. Mika graduated from West Texas A&M University with my Bachelor's in Animal Science in May of 2019. She enjoy hiking with my Australian Sheppard Nymeria, going hunting and fishing, and attending cattle shows as both an exhibitor and a visitor. I'm looking forward to learning the area and meeting all of our clients!
Mika Weaver
Mika started with Southern Hills at the end of August 2019. She lives outside of Prescott on a little farm with her boyfriend Kaleb and their  daughter Hadley and 3 dogs. Diva, Lucy, Harley.In her free time Mika loves spending time outside with her family, the dogs and their chickens. Her favorite part of my job is having something different everyday.
Sandy Taylor
Anyone that knows Sandy knows how much she loves animals so working at Southern Hills Veterinary Services is a dream come true. She has 4 rescue animals of her own; 2 cats (Rondo & KG) and 2 dogs (Luna & Brutus). She enjoys spending time with her family and friends, camping, reading and is a loyal fan of the Boston Celtics.