Staff
Stephani Wintermute
Stephani Wintermute has been with Southern Hills for two years now as our receptionist in our Creston office. She grew up in Mount Ayr but now lives in Creston with her husband, Bobby, four-year-old son, Cory, and her lab, Delta. Stephani studied psychology at SWCC. She enjoys spending time with her family, watching movies, and baking. Her favorite part of her job is getting to know all of the unique personalities pets have and watching their progress.
Sara Nelson
Certified Veterinary Technician
Sara Nelson has been a Registered Veterinary Technician in the Corning office since November of 2015. She grew up in Atlantic, Iowa and attended Iowa Western Community College where she received her Associated of Applied Science Degree in Veterinary Technology. She now lives on an acreage by Clarinda with her husband Leeman and their labs, Kimber, Tikka, and Benelli. In Sara's free time she enjoys bow hunting, fishing, AKC hunt tests, and upland hunting with her labs. Sara enjoys making pets feel like themselves again and assisting with c-sections.
Jill Mitchell
Jill Mitchell started with Southern Hills in 2002 and is now our Practice Manager. Jill attended Iowa Western Community College and Southwestern Community College. Jill is originally from Clarinda, IA but now lives in Prescott with her husband Jason and Miniature Australian Shephard Vegas. When Jill isn't in the office, she is raising Angus cattle or going to cattle shows with her niece, Hannah. Jill enjoys working with a variety of animals and learning something new every day.
Tiffany Odens
Tiffany Odens has been our receptionist for our Red Oak office for a year and a half now. She grew up in Bellevue, NE but now lives in Red Oak with her husband, Joshua, and son, Sawyer with their dog, 3 cats, and 2 horses. When Tiffany isn't working she enjoys working with her horses, reading, and watching movies. Tiffany enjoys seeing pigs come into the clinic.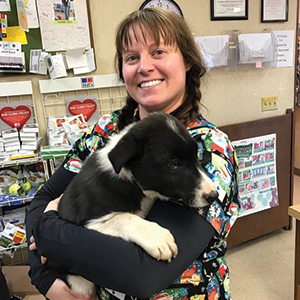 Cara Vanderholm
Coming Soon…
Amber Bates
Amber Bates has been with Southern Hills since November 2016 as a veterinary assistant in the Corning office. She graduated from Southwestern Community College with her Associates Degree in AgBusiness. She lives with her husband, Chris, and daughter, Bristol, on an acreage south of Massena with their dogs Dixie, a corgi; Rowdy, a border collie/aussie; Scarlett, a red/blue tick; and Sassy, an inside cat.  In her free time, Amber enjoys hunting, fishing, doing photography, helping her husband with the racecar/going racing, and helping on her family farm. Amber's favorite part about her job is that it is something new each day. She also enjoys large animal c-sections/ ob's.
Jessica Stoll
Jessica Stoll has been with Southern Hills since October 2016 as a veterinary assistant in our Corning office. She lives with her husband, Brad, and step son, Layton, in Bedford, along with their dog, Lulabelle, and their sheep. Jessica attended Northwest Missouri State and Kansas State University studying animal science. In her free time, Jessica enjoys going tractor pulling with her husband and performing photography. Her favorite part of her job is helping with ob's.
Marissa Sunderman
Marissa joined the Southern Hills team in October of 2017 as a veterinary assistant. Marissa is a native of Wheatland, Iowa, located in East Central Iowa and moved to Southwest Iowa after marrying Dr. Nathan Sunderman in 2015. Marissa received her Bachelor's of Science in Animal Science from Iowa State University in 2012. They have a one year old daughter, Adaline, and a second daughter to be joining the family in February of 2018. Marissa and her husband care for their two dogs, Belle, an Australian Shepherd, and Ellie, a Pembroke Welsh Corgi. Marissa's hobbies include farming, being outside, reading, running, crafting, and spending time with family. She assists with putting on the swine show at the Page County Fair during the summer. Marissa enjoys being able to interact with clients and patients as well as work as a medical team to solve cases.